Tyne Terminal boosts potable alcohol storage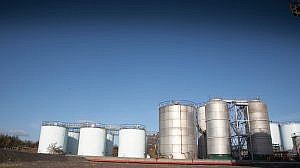 Simon's Tyne Terminal in the North East of England has boosted storage capacity for potable alcohol with the addition of two new high grade stainless steel tanks. The tanks bring the terminal's dedicated storage capacity for this product to over 6 million litres. Simon's investment reflects a growing market for storing different grades of potable alcohols from both importers and exporters. Simon's engineering team specified the new 205,000 litre tanks and project managed all aspects of their procurement and installation, including associated infrastructure and integration with the Terminal's existing potable alcohol storage facilities and pipelines.
Tyne Terminal, one of Simon's nine wholly owned terminals in the UK, Ireland and Germany, has been providing specialist potable alcohol storage to some of the world's leading drinks companies for over 15 years. Since the initial installation of six tanks to store a number of grades of imported rum from Guyana, the company has been steadily increasing its storage capacity and added-value operations for this market in line with demand. With the recent addition of two new tanks, the Terminal now has 13 dedicated potable alcohol tanks with capacities ranging from 205,000 to 1.5 million litres.
Simon's Tyne Terminal routinely stores and handles a wide range of pure and finished alcohol products, including rum, whisky, gin and neutral alcohol, which often go straight from the terminal to bottling plants. Located on the estuary of the River Tyne, Simon's terminal offers two deep water jetties at a busy port with good sea connections to continental Europe. It also has excellent road links to the north of England and is conveniently situated for the Scottish distillery industry. Product can be received and redelivered by both road and sea 24 hours a day. Dedicated stainless steel pipelines allow the handling of bulk shipments.
In addition to its storage facilities, Simon offers a number of services for its potable alcohol customers, including semi-automatic drumming and Intermediate Bulk Container filling, as well as sampling and reduction with demineralised potable grade water. There is also an HMRC bonded warehouse with high security equipment systems, including CCTV and alarmed perimeter fencing.
Martyn Lyons, Managing Director, Storage Division comments: "Our Tyne Terminal has established a reputation as a leading storage facility for high quality alcohol products; our investment in additional storage is in direct response to rising demand from this sector."