Simon expands tankage for burgeoning biofuels market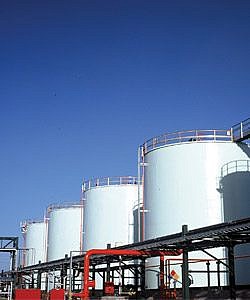 With an expanding biofuels market and utilisation running at consistently high levels, Simon Storage is expanding tank capacity at its Immingham East and West Terminals on Humberside. Inter Pipeline Europe, the holding company behind Simon Storage, has authorised a multi-million pound construction programme to provide an additional 50,500m3 of tankage across the two terminals. The investment reflects increasing demand for specialist storage and handling facilities, particularly bioethanol, as green fuel producers gear up for the introduction of the Government's Renewable Transport Fuel Obligation (RTFO) in April.
The new legislation requires all transport fuel suppliers to increase the percentage of biofuels in their aggregate sales to 5% by volume by 2010. The new carbon steel tanks at Immingham will comprise four 7,500m3 tanks and one 5,500m3 tank at the East Terminal and three 5,000m3 tanks at Immingham West. Simon's in-house Engineering Projects team is overseeing all design works and ground preparation activities, which are already underway. After a competitive tendering process, the mechanical construction contract has been awarded to Fenelon, one of UK and Ireland's leading storage tank construction contractors. Designed to satisfy the needs of the growing biofuels market, the new tanks can be equipped with a suitable internal coating for bioethanol use.
In addition, the construction, associated fittings and tank bunds will be designed and built in full compliance with the safety and environmental recommendations of the Buncefield Standards Task Group (BSTG). The BSTG's Final Report specifies minimum expected standards for the design and operation of fuel storage sites in the light of the incident at the Buncefield oil storage depot in 2005.
Simon Storage is one of the leading suppliers of storage and engineering solutions to the UK biofuels industry. It has seen a steady rise in biofuels storage at all of its east coast UK terminals in the run up to the introduction of the RTFO, and this now represents around 18% of the company's turnover.
Richard Sammons, Chief Executive of Simon Storage and Director of Inter Pipeline Europe, reports a wealth of opportunities at Immingham as the market for renewable fuels continues to grow, including plans for new biofuels manufacturing facilities. He says this will all boost demand for additional storage, handling and related services for this sector: "The new tanks are being designed specifically to meet this demand and we're already in discussion with a number of parties who are interested in securing these new storage facilities, which will become available from early 2009 onwards."