Simon manages Murco expansion at Westerleigh terminal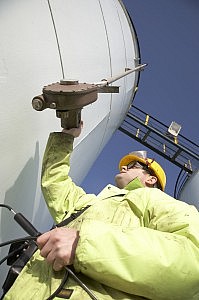 Through its specialist division, Simon Projects, Simon Storage's engineering and project management expertise has played a key role in the successful expansion of Murco Petroleum's Westerleigh terminal near Bristol. Westerleigh is the largest and busiest of Murco's three UK terminals with a storage capacity of close to 14,800m3 and daily throughput of up to 5,000m3. Simon's Engineering Projects' team provided a complete turnkey service, from feasibility studies through to construction, commissioning and client handover. The additional facilities at Westerleigh are required to meet rising demand for road fuels storage and handling, which has grown rapidly over the past two years.
Prior to the construction phase, Simon Projects conducted an audit to assess the condition of the terminal's existing infrastructure. Maintenance systems were also assessed as part of the site audit to ensure they satisfied regulatory requirements and good engineering practices. The results were then used by Simon Projects to prepare an engineering design, complete with cost and timescale estimates for the procurement, installation and commissioning of the new facilities. Gary Lacy, Engineering Director at Simon Storage commented, "By working with our customers at the initial stages of a project we can help to ensure the operational and financial success of their proposed investment and optimise long term logistical costs."
Simon Projects then managed all aspects of the expansion of Murco's Westerleigh terminal, including sub-contracted mechanical, civil and electrical/instrumentation works. The project also included the supply and installation of one 1,500m3 carbon steel tank with the flexibility to operate in diesel or kerosene service. A four-arm skid-mounted loading bay and vapour recovery system have also been installed. In addition, the product lines have been configured to allow the product to swing between the motor spirit and the kerosene. This will accommodate seasonal demands.
In addition, Simon Projects managed the installation of a new road loading pump and manifold system at the terminal, which provides back-up service to any one of the four existing off-loading pumps. Other new systems include a control panel and a programmable logic controller to integrate site communications, tank gauging, alarms, fire systems and pump starts. The system's future-proof design includes the capability to upgrade to full site automation and control room displays, if required, as part of Murco Petroleum's ongoing investment at Westerleigh.
Murco Petroleum Limited was established in the UK in 1960 and has since grown to become a truly integrated oil company with a recognisable brand in the forecourt retailing sector. In addition to the Westerleigh terminal, Murco Petroleum has its own refinery in Milford Haven and other distribution terminals in Bedworth, Warwickshire and Theale in Berkshire. It is a subsidiary of the USA-based Murphy Oil Corporation.