Simon provides safety training for BP Oil UK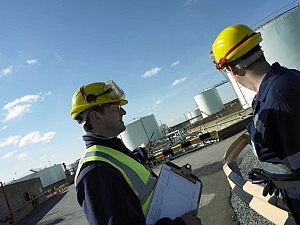 Bulk liquids infrastructure company, Simon Storage Ltd, is providing National Vocational Qualification (NVQ) training in Bulk Liquid Warehousing for BP Oil UK through its specialist Facilities Management division, Simon Management Ltd (Simon Management). All front line operations staff and supervisors in terminals operated by BP UK Logistics will complete the training as part of an ongoing safety training and competency assessment process.
Simon Management worked closely with BP UK Logistics to establish a tailored training programme, which is being overseen by Simon's training team. "Safety, people and performance are three of the company's key priorities", said Graham Anderson, Regional Operations Manager-North for BP Oil UK. "Simon is one of the UK's top safety assessors, and this training is all about making our operations as safe as possible. It will also help us to comply with the BP Integrity Management (IM) Standard," he commented.
Terminal operations staff are assessed on every aspect of their job. If a gap in an employee's skillset is identified, then it is addressed by targeted training modules. Terminal supervisors are also assessed for the Institute of Learning and Management qualification which covers control room duties, emergency response and crisis management.
Simon's safety training programme for BP's UK Logistics staff is part of an ongoing assessment process and will include a review every two years to ensure continuous improvement in skills and performance. In addition, it will provide the company with documented assurance of its operational staff's competency for internal and external inspections. It will also be used to support the implementation of BP's Integrity Management Standard Element 2 on Competence in the UK.
In conclusion, Graham Anderson said that training staff to a nationally recognised qualification is key to achieving operational excellence, "We've had a positive response from all the employees that have completed the course. They feel an improvement on a personal, as well as professional level."
Training is one of the many facilities management services that Simon Storage offers its customers, either as an integral part of a terminal engineering and management package or as a stand-alone offering. Lee White, General Manager of Simon Management, commented, "Learning programmes can be tailored to meet the specific needs of each company and cover anything from fuel economy training for drivers through to vocational competency schemes, like the programme we developed for BP Oil UK."