Simon receives safety awards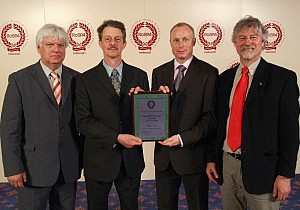 Simon Storage has once again received an impressive array of honours from the Royal Society for the Prevention of Accidents (RoSPA).
"The company is delighted at winning such recognition for its health and safety performance," said Martyn Lyons, Managing Director, Storage Division at Simon Storage. "We see a safe working environment as critical to the effective operational delivery of service to our customers. We are committed to maintaining exceptional safety performance at our terminals and at those that we manage on behalf of third parties."
The annual awards recognize organisations that excel in the areas of occupational health and safety, and in particular, demonstrate a progressive and consistent approach to safety. RoSPA presents several categories of awards, starting with the Bronze Award and progressing to Silver Award, Gold Award, Gold Medal, President's Award and ultimately the Order of Distinction. The Gold Medal, President's Award and Order of Distinction awards are only presented after an organisation has clearly and consistently demonstrated, in previous years, its outstanding record for safety in the work environment.
Simon's six UK bulk liquid and gas storage terminals received high recognition for sustained achievement in the areas of health and safety management and control of risk in the workplace. This includes, for the first time, the Order of Distinction for Simon's Immingham East Terminal. The Order of Distinction Award is an award presented to an organisation that has won at least fifteen consecutive previous awards. Simon's Immingham West Terminal was awarded a fifth President's Award.
Meanwhile, Simon's Terminal at Seal Sands on the River Tees and the Cumbrian facility in Workington picked up their second and third President's Award respectively.
The Cumbrian facility has now received ten consecutive Gold Awards from RoSPA, while the Riverside Terminal (on the Tees) and Tyne Terminal each received their fifth Gold Medal.
Two of Simon's other operating divisions were presented with Gold Medals this year. The specialist Facilities Management division, Simon Management, and Lewis Tankers, one of the UK's leading hazardous road tanker operations, received their fifth and fourth Gold Medals, respectively.
In addition to health and safety accolades for Simon's UK facilities, the company's Shannon Terminal at Foynes in Ireland has been highly commended for its safety record in the annual awards of the National Irish Safety Organisation (NISO), a voluntary body dedicated to promoting health and safety in Irish workplaces.