Petroleum Review Q&A Article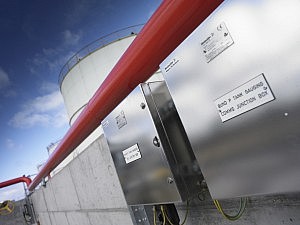 What do you see as the key market forces influencing the UK bulk storage sector and how is Simon Storage dealing with these?
Needless to say, the explosion at the Buncefield terminal in 2005 has had a major influence on this sector, and the ramifications are still being felt today. Buncefield has been the driving force behind new operating and safety standards at oil storage sites to prevent such an incident happening again. Compliance with these new standards now dominates investment plans for new build facilities and for existing sites, and the cost of meeting these requirements is also shaping the future of the industry – and the number of players. Some companies have already found the cost of installing the recommended safety systems prohibitive and are withdrawing from storing and handling fuels at their terminals.
As an established leader in the design and development of bulk liquid and gas handling systems, Simon Storage has been an active participant in identifying and improving industry-wide standards of control at fuel storage sites post Buncefield. As Managing Director of Simon Storage and Chairman of the Tank Storage Association, I represented the UK tank storage industry on the Buncefield Standards Task Group (BSTG) and Process Safety Leadership Group (PSLG), and our Safety, Health and Environment (SHE) team has populated the PSLG working groups. For its part, Simon has committed to more than £2 million in improvements at our own UK facilities over the next three years to meet and exceed Buncefield recommendations, even though we already have an award-winning safety record. As a result of our industry experience and insight into the changes taking place, we are also able to offer engineering solutions to help third parties reach the recommended standards, including LOPA (Layers of Protection Analysis) and Automatic Shutdown systems.
How have the highs and lows of oil price movements impacted your business over the past 18 months?
Oil prices have undergone unprecedented volatility as a result of recent political and economic instability, with prices plummeting from around $150 to under $40 a barrel last year, before rising to a six-month high of around $65 at the end of May 2009. No doubt the ongoing global recession will continue to affect the price of crude oil, particularly if consumption falls below production capacity. This volatility has created contango situations, when traders seek to maximise the commercial benefits of low oil prices by buying vast stocks and simply storing for future delivery. With terminals in the UK, Germany and Ireland, Simon has a total owned storage capacity of 1.23 million m³ and the capability to handle a vast range of products, including conventional hydrocarbon and alternative fuels, as well as chemicals and gas. This flexibility and expertise means that we have been able to respond quickly and efficiently to the fast changing storage demands of the fluctuating oil market, which many predict will continue throughout this year and beyond.
What do you see as the main opportunities and challenges facing the bulk storage sector going forwards?
In these uncertain economic times, perhaps the biggest challenge facing many companies storing and handling gasoline and other fuels is compliance with the COMAH CA Containment Policy – introduced in February 2008 as a direct result of Buncefield and probably the most significant new regulation to affect the industry in recent years. This requires stringent standards for new build and existing facilities – some of which have been in place since the 1950s and so may well require extensive – and expensive – improvements in order to comply. The Policy places emphasis on the importance of primary containment, as well as considerable enhancements to secondary and tertiary containment facilities to prevent pollutants from escaping the site and contaminating the environment. As already mentioned, the cost of compliance is proving an insurmountable challenge for some companies, while for others it will be a matter of balancing the considerable expense of achieving these standards against other operational, maintenance, health and safety and regulatory expenditure.
Achieving higher standards is always a challenge, but I believe these new requirements should be viewed as an opportunity to make our industry even safer and more environmentally friendly, and to invest in storage and handling facilities that meet our clients' current and future needs.
Safety is obviously of paramount importance across the energy industry, especially in the light of the Buncefield incident in 2005. What has Simon Storage done / is doing in this area?
Simon has always seen a safe working environment as critical to the effective operational delivery of service to our customers and our terminals and road tanker operation, Lewis Tankers, all have excellent health and safety records. Indeed, our achievements in this area have been recognised year after year with awards from safety organisations such as RoSPA, and we remain committed to maintaining exceptional safety performance at our terminals and at those that we manage on behalf of third parties. As a key contributor to the Buncefield working groups, Simon has striven to ensure that it stays ahead of the game, particularly as a major part of our business relates to the storage and handling of gasoline and other fuels.
We met all the BSTG's initial 'Quick Wins' by the agreed deadlines, including provision of tertiary containment measures, high integrity tank filling controls and effective shift handover procedures, and additionally embarked on a programme of fitting automated fail safe shut down systems on all facilities handling gasoline. We then complied with all the recommendations in the BSTG's final report, published in July 2007, such as engineering against loss of secondary and tertiary containment and systematic assessment of safety integrity levels. Lessons learned from this hugely valuable exercise were also implemented at Simon Storage terminals in Ireland and Germany.
Since then Simon has remained keen to ensure that its systems meet and even exceed expectations now and for the foreseeable future. This is clearly demonstrated in the company's decision to implement the higher standard Safety Integrity Level (SIL) 2 systems and automatic shutdown systems to prevent overfill of tanks storing gasoline received via pipeline transfer, rather than the SIL 1 standard supported by TSA and UKPIA.
Whilst the Buncefield incident triggered a major review of safety procedures, at Simon we have always pursued standards above and beyond industry regulations and recommendations. This ongoing commitment is reflected in our 2009 Strategic Plan which includes operational and SHE initiatives associated with the management of process and personal safety, together with specific infrastructure improvements. We've also been examining a number of innovative solutions for the provision of secondary and tertiary containment facilities, as identified by the Containment Policy, which requires secondary containment bunds to be impervious both around and underneath tanks. The obvious solution is to lay concrete within the bunds and under tanks, but this involves high costs and disruption to business whilst works are carried out, so we are currently considering other options, such as the use of clay, butyl lining systems or impervious matting systems.
Simon Storage is heavily involved in the handling and blending of biofuels. How has the UK market changed in recent years and how have you reacted to these developments, and what are your future plans in this sector?
In some of its most significant bulk liquid contracts in recent years, Simon Storage is now working with all leading companies in the UK biofuels market. We have developed key expertise in storage, handling and distribution of green fuels, together with advanced techniques for blending biofuels with conventional hydrocarbons, both in-tank and during road tanker loading. Introduction of the Government's Renewable Transport Fuel Obligation (RTFO) last April has driven up demand for specialist biofuels storage and handling requirements and Simon has seen a steady rise in biofuels storage at its UK terminals. The Simon Projects team has overseen the construction and modification of biofuels storage facilities at its terminals in Immingham on Humberside, North Shields on Tyne & Wear, and at Seal Sands on Teesside. Also, through membership of North East Biofuels, Simon is working to facilitate further development of a sustainable biofuels business in this region to meet projected growth in this market as a result of the RTFO. In addition to creating a need for more specialist storage and handling facilities, I believe the RTFO may also pave the way for new production plants to be built in the UK, particularly for bioethanol, which is currently imported. If global targets for cutting carbon emissions are to be met it will no doubt be necessary to continue the RTFO programme beyond 2010 and increase the level of biofuels inclusion above 5%. At Simon we are already gearing up for the next generation of biofuels, and we will continue to work with our clients to ensure a greener future for fuel.