Simon announces new fuel storage with Petroplus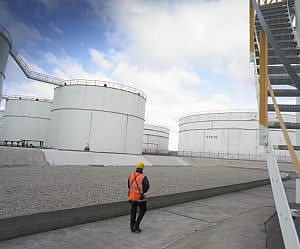 Simon Storage Ltd ("Simon") is delighted to announce a new long term contract to store and handle the full range of road fuels at its Seal Sands Terminal on Teesside for Petroplus Marketing ("Petroplus"). Simon is providing a fully integrated solution that includes 40,000m3 of carbon steel tankage, fully automated road loading facilities, integrated bioethanol in-line injection systems and batch biodiesel blending systems. Simon's Seal Sands Terminal has the capacity to handle up to 600,000 tonnes of road fuel products a year for Petroplus, and is already assessing further expansion plans.
With over 30 years experience of handling road fuels on Teesside, and with a programme of continuous investment, Simon's Seal Sands Terminal has achieved a deservedly high reputation for the quality and efficiency of its road fuel distribution facilities serving the North East of England. Situated at the mouth of the river Tees, the Terminal has two deep water jetties for the receipt of products by sea, and also benefits from excellent road connections for onward delivery of road fuels to retail forecourts. Existing rail connections provide opportunities for wider distribution.
Following an extensive investment programme, Simon's Seal Sands Terminal is the sole provider of bulk gasoline storage and distribution storage facilities on Teesside. The Terminal is operated by Simon in full compliance with all safety and environmental guidelines introduced after Buncefield. Specialised facilities for the safe and secure handling of gasoline include a dedicated vapour recovery unit and high integrity independent shut down systems, incorporating ROSOVs (remotely operated shut off valves) to provide emergency isolation of plant should there be a breach of containment.
The fully automated road tanker loading facilities at the Terminal were designed and built by Simon to the latest industry standards, and are capable of delivering fuels at 2,250 litres per minute from each bottom loading arm. These facilities are located in an area separated from other operations at the Terminal, which means that Simon can provide a gate-to-gate service of under 14 minutes for a full tanker load.
For the past five years, Simon has led the way in the UK in enabling major oil companies and oil traders to comply with the Government's Renewable Transport Fuel Obligation (RTFO) programme. With two of the largest UK manufacturing biodiesel plants hosted at Simon terminals, Simon has gained extensive knowledge of all aspects of biodiesel blending operations. Further developments in the last two years have seen the introduction of automated bioethanol blending systems, with denatured ethanol automatically injected into unleaded motor spirit at the loading gantries, whilst paying close attention to all related HM Revenue and Customs' requirements.
The service that Simon provides for Petroplus at its Seal Sands Terminal is supported by Simon's in-house bespoke automation package, Terminal Automation & Stock Control System (TASCS), which monitors product movement through the Terminal and manages loading and blending operations. Road deliveries can be scheduled by the customer through Simon's web based order entry portal, and are then automatically downloaded to the loading gantry control system and accessed by the driver using a secure swipe card. After loading, TASCS calculates the HMRC duty liability per component, provides updated stock calculations, and enables real time reporting both to Petroplus and to its customers via Simon's web-based access system.
Martyn Lyons, Managing Director, commented: "This is great news for the North East. We have continued to invest in Simon's Seal Sands Terminal to ensure that it remains the first choice road fuel distribution terminal for the North East. We are committed to ensuring that the Terminal is not only the most efficient with the least queuing times, but also provides the most flexible facilities. We have handled more than a million tonnes of gasoline, diesel, biodiesel and bioethanol at Seal Sands within the past three years, and this new contract with Petroplus opens up a wealth of opportunities to increase the volume of products that we will handle in the future."
Petroplus can be contacted via its website www.petroplusholdings.com.