Simon appointed for integrated solution for CEPSA solvents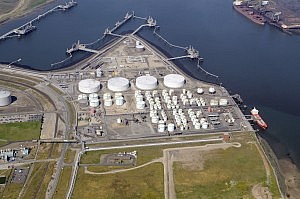 Simon Storage Ltd ("Simon") is to supply a fully integrated solution at its Seal Sands Terminal (the "Terminal") on Teesside for the receipt, storage and distribution of industrial solvents for CEPSA UK Limited ("CEPSA"), a subsidiary of one of Spain's leading companies in the oil, gas and petrochemical sectors. The long term contract with CEPSA will involve storage and handling of ten different products at the Terminal. The products will be used as solvents for a variety of applications in the chemical industry, from paints and varnishes to adhesives and cleaning agents.
The CEPSA project is being completed by Simon's specialist engineering division, Simon Projects, in two phases. Working to a strict deadline to accommodate the contract's initial storage capacities, Simon's experienced team was able to modify ten existing tanks to the required specification in just 60 days. Modifications and compatibility checks were made to allow safe storage of all the different solvents in the allocated carbon steel tanks. The fast-track programme included installation of nitrogen systems as required, modifying existing road loading arms, installing new pump discharge pipework and fitting tank overfill protection. Road loading point automation, the fitting of safety interlock devices and the fitting of HM Revenue & Customs' approved road loading meters also formed part of the overall project.
The final phase of works to install equipment and infrastructure to meet CEPSA's requirements is now in progress at the Terminal. A key element of the works is the design and installation of road loading facilities featuring fully automated order processing and driver documentation. This will be provided by TASCS, Simon's stock management and road loading automation software, an exclusive system that offers customers secure, global access to live stock and account information, and the facility to place dispatch and delivery instructions remotely.
Simon is customising its standard TASCS software to include additional functionality required by the CEPSA contract. The software is being designed to generate driver load instructions that reflect the complexity of product preparation and loading, and to produce related documentation, including CEPSA headed delivery notes. The enhanced software will also feature new user-friendly entry screens to make order processing quick and easy.