Simon supplies Total solution for sulphur storage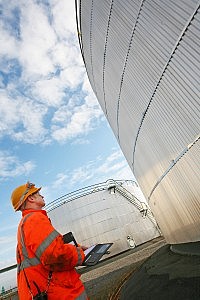 Immingham Storage Co Ltd, a subsidiary of Simon Storage Ltd, has been awarded a 10-year contract by Total UK Ltd to store molten sulphur at its Immingham East Terminal.
This is believed to be the first high volume sulphur export facility constructed in the UK for many years. Once fully commissioned, the new facility is expected to be able to receive product at a rate of 60 tonnes per hour.
Molten sulphur will be extracted during the production of low sulphur fuel at Total UK's Lindsey Oil Refinery and transported via road tanker from the Refinery to the East Jetty at Immingham before being exported by sea.
Simon's specialist engineering division, Simon Projects, has worked with Total UK to develop the new sulphur storage facility. As part of its comprehensive service, Simon's engineering team conducted a Front End Engineering Design (FEED) to assess technical and operational requirements. The FEED study results were then used to prepare an engineering design, together with cost and timescale estimates for procurement, installation and commissioning.
Construction work is now underway at the Terminal. This includes installation of a new heated and insulated tanker off-loading system, and modification of two existing storage tanks which have a combined capacity of 12,618m3. Each tank will be fitted with heating coils, designed to hold the temperature of the product at the required 140oC. In addition, new insulation will be installed to the shell and the roof of each tank to maintain a constant temperature. A new pipeline and pumping system is also being built on the East Jetty to facilitate export of molten sulphur by ship.
The new tanker off-loading system has been designed by Simon with two off-loading points capable of operating simultaneously to accommodate the anticipated throughput of products and provide reasonable capacity for future expansion. A swipe card interface will be installed at the gantry to enable automated selection of the receipt tank and operation of the off-loading pumps. Stock and transaction processing will be managed by TASCS, Simon's exclusive software, which offers customers secure, global access to live stock and account information, and the facility to place dispatch and delivery instructions remotely.
Richard Sammons, Chief Executive of Simon Storage Ltd and Director of parent company Inter Pipeline Europe, comments: "We're delighted to be partnering Total UK on this project, which represents a significant capital investment in Immingham. Work is well underway and the facility is on track to be fully operational by January 2010."