Simon wins HOCEM contract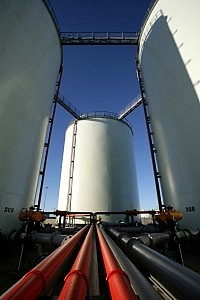 Simon Storage Ltd ("Simon") is delighted to be providing dedicated base oil storage for hocem Haase Oil Chemical GmbH ("hocem") under a new three-year contract. Hocem product arrives at Simon's Immingham West Terminal (the "Terminal") by ship from hocem's transit terminal in Latvia, for onward distribution by road. The Terminal has dedicated three tanks with a combined capacity of 4,000m3 to this contract.
Simon is handling two grades of mineral base oil for hocem at the Terminal. A light base oil is stored at ambient temperature in a tank recently constructed by Simon as part of its ongoing investment in the Terminal's infrastructure, and two heated tanks are allocated to the storage of heavy base oil. The heating systems can increase the temperature inside the tanks to 50°C if product requires 'drying' on receipt into storage, to ensure product quality.
Simon has upgraded the existing road loading systems and gantries at the Terminal to meet the customer's requirements and to ensure full compliance with specific safety and environmental standards. This includes fully integrated road tanker overfill detection and prevention systems, and emergency shutdown facilities. Metering systems are in use as a guide to load quantity, and delivered weight is confirmed by the Terminal's approved weighbridge.
Stock and transaction processing of hocem product at the Terminal is managed by TASCS, Simon's exclusive terminal automation and stock control software. TASCS offers clients instant access to account data from any computer via a web browser over the internet. Customers can place dispatch and delivery requests remotely and access accurate product reconciliation information in real time. Account information can also be accessed via PDA or smart phone.
With 20 years of petrochemical trading experience, hocem is one of Europe's premium service suppliers of base and lube oil products for industrial, automotive and transport applications. Hocem has offices in Hamburg, Lille and Moscow, and, with its logistics partners, it operates transit terminals in Estonia and Latvia.
The new contract with Simon reflects hocem's commitment to maintaining product stocks in a strategic location on England's East Coast to meet customer demand. Hocem's Michael Raue comments: "With its deep water jetty and East Coast location, Simon's Immingham facility is ideally placed for receiving product shipments from our east European transit terminal. The location also offers easy access to the motorway network, resulting in efficient transport links to the UK customers of our distribution partner, H&R ChemPharm (UK) Ltd. One strategic hub at Immingham ensures better service, even in the West of England, than the longer sea route to West Coast facilities."