Simon wins race fuel storage for Shell Global Solutions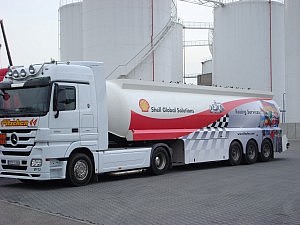 Simon Storage Ltd ("Simon") has won a prestigious two-year contract with Shell Global Solutions GmbH to store gasoline at its Simon Tanklager-Gesellschaft mbH ("Simon TLG") facility in Mannheim, Germany.
At its location on the River Rhine, Simon TLG is providing a gasoline storage hub for Shell Racing Solutions, the motorsport division of Shell Global Solutions. Shell Global Solutions is a global producer of high quality race fuels and lubricants for all forms of motorsport ranging from club level to international championships worldwide. Simon TLG has made five mild steel tanks available to service the contract, along with in-tank blending technology to produce a range of speciality racing fuels. Each fuel is designed to suit a specific application, and is made to deliver consistent, premium quality engine performance.
The contract with Simon TLG at Mannheim enables Shell Global Solutions to maintain gasoline stocks in a strategic location for onward distribution to racetracks and for testing by motor manufacturers across Europe and around the world. Shell Global Solutions benefits from the terminals' product transhipment services which include product receipts and deliveries by truck. Occupying a prime location on the River Rhine, Western Europe's principal inland waterway, Mannheim offers convenient transport links to Germany, France, Switzerland, Austria, and Italy, as well as efficient access to Europe's major deep water coastal ports of Amsterdam, Rotterdam and Antwerp.
Simon's Mannheim terminals have a long and successful track record of supplying bespoke storage, handling, blending and distribution services across the complete spectrum of the chemical, petroleum and petrochemical industries. Facilities are configured to maximise the logistic benefits of their strategic location with a wide range of storage and handling solutions, including ship and receive services, product blending and transhipment via barge, rail and truck. Providing a 'mega' hub to the heart of Europe, the terminals offer the potential for optimising bulk distribution networks.
For more information on Shell Racing Solutions' products please visit www.shell.com/home/content/shellracing-en