Simon's safety leadership, commitment and results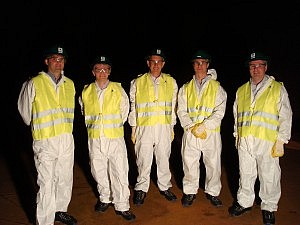 Simon Storage Ltd ("Simon") remains focused on delivering its safety strategy, and is delighted that its excellent safety record was once again recognised by the Royal Society for the Prevention of Accidents (RoSPA) in its 2010 Annual Safety Awards.
Commitment
Simon continues its unwavering commitment to personal and process safety across all of its operations with notable success of its "Take 2" safety drive: "Take 2 minutes to make sure you do every job safely, every time". Closely involving the terminals' safety committees assisted by its SHE specialists, Simon works hard to achieve constant active engagement of its workforce in spreading and practising safety awareness. Its "SHE Bulletin" reinforces the safety message, as well as sharing best practice and advice based on events occurring in the industry.
Simon made its considerable safety experience available to the steering committee of the Process Safety Leadership Group ("PSLG"). In his role as Chairman of the Tank Storage Association, Simon's Managing Director, Martyn Lyons was invited to join the PSLG when it was set up in 2007. PSLG is a joint industry and regulators group whose remit is to drive forward high standards in process safety leadership and to complete the implementation of the Buncefield Major Incident Investigation Board's recommendations. It comprises representatives of the United Kingdom Petroleum Industries Association (UKPIA), the Tank Storage Association (TSA), United Kingdom Onshore Pipeline Operators Association (UKOPA), Chemical Industries Association (CIA), Unite the Union, Environment Agency (EA), Scottish Environment Protection Agency, and the Health and Safety Executive (HSE).
In December 2009, PSLG published its final report, together with a set of principles for process safety leadership to guide top-level engagement. The document, http://www.hse.gov.uk/comah/buncefield/pslgprinciples.pdf, sets out eight principles for senior industry figures to follow, including the requirement for board level involvement and competence in safety management, putting process safety leadership at the core of a business to ensure risks are properly managed, and engaging and involving the workforce in managing safety. Over many years, Simon has recognised the value of such approach, and continues to engage these principles to strengthen its safety culture.
Leadership
Simon believes that the involvement of senior management in promoting safety culture is essential to keeping safety at the forefront of operational excellence. To be meaningful, such involvement requires competence, and Simon provides its Board with ongoing safety training which then assists the directors with their hands-on, critical review of safety arrangements. Board level visibility and promotion of safety is also manifested through regular safety tours of the facilities and engagement at individual site SHE meetings.
Demonstrating the importance Simon attaches to SHE matters, it established a SHE Committee which quarterly advises the Board on personal and process safety issues. The SHE Committee actively oversees safety, health and environmental aspects of the operations, monitoring performance through gathering, review and dissemination of data throughout the business, as well as sharing important information with the industry via the TSA.
Results through Leadership and Commitment
This year Simon has again scooped two Orders of Distinction and four President's Awards. The two award categories won by Simon this year are only granted by RoSPA after an organisation has clearly and consistently demonstrated an outstanding record for safety in the work environment over a number of years. The Orders of Distinction were once again presented to Simon's Immingham East and West terminals, and follow no less than 15 consecutive years in which each terminal has won the Gold Award. Along with Simon Management, all three North-East terminals (Seal Sands, Riverside and Tyne) have again this year attained the President's Award after achieving Gold Awards for 10 consecutive years or more.
Martyn Lyons, along with all employees, is delighted with the awards for each of its UK operations. He says: "Having reviewed a range of our key performance indicators, including occupational health and safety management and consistent application of risk control measures, RoSPA has once again acknowledged our exceptional health and safety performance. We are also proud to be associated with the work of the PSLG, and will continue to play a lead role in enhancing process and personal safety standards and leadership in the industry."