Simon/Harvest Energy's new road fuels contract on Teesside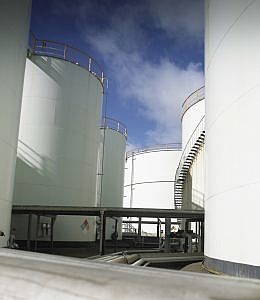 As part of a major new investment in Teesside, Simon Storage Ltd ("Simon") has entered into a long term contract to store and handle road fuels at its Seal Sands Terminal for Harvest Energy, the UK's largest independent blender and supplier of road fuels. Simon is providing a fully integrated solution which includes 47,000m³ of carbon steel tankage for unleaded and super unleaded gasoline storage and blending, automated road loading facilities, and bioethanol in-line injection. This capacity is in addition to a further 35,500m³ of tankage already in use for diesel and biodiesel batch blending.
The contract at Simon's Seal Sands Terminal extends Harvest Energy's expanding UK-based storage and supply network and will provide a fast and convenient new fuel distribution facility for the company's forecourt retailer customers throughout the North East of England. The contract gives Harvest access to Simon's state-of-the-art storage and handling facilities, including a dedicated, high-speed fuel loading area that minimises queuing, even at peak times. The fully automated road tanker loading systems are designed and built by Simon and are capable of delivering fuels at up to 2,250 litres per minute from each bottom loading arm, providing a typical gate-to-gate time of 15 minutes for each 35,000 – 40,000 litre road tanker. The facilities include a vapour recovery unit to capture displaced vapours from road loading, and storage tank internal floating roofs to suppress evaporation of stored gasoline and components.
Harvest Energy currently supplies approximately 10% of the UK's motor fuel requirements and is achieving rapid growth within the forecourt sector with a package of quality products and reliable supply. The company has strategically placed fuel terminals across the UK with an annual storage capacity of 300 million litres and operates a modern fleet of 44-tonne tankers capable of delivering to forecourts 24/7. Fuels supplied by Harvest Energy had the highest green house gas emission saving of any obligated oil company in the UK according to a recent report by the Renewable Fuels Agency.
For more than ten years Simon's Seal Sands Terminal has been at the forefront of road fuel storage and distribution in the North East. Situated at the mouth of the river Tees, the Seal Sands Terminal has two deep water jetties for the receipt and dispatch of products by sea, which are complemented by excellent inland connections for onward delivery of product by both road and rail.
Simon Projects, the specialist project engineering division of Simon Storage, is now completing a multi million pound reinvestment programme to meet Harvest's demanding requirements. All necessary infrastructure has been upgraded to operate in compliance with the latest safety and environmental guidelines introduced after Buncefield. In the first phase, completed to meet a 1st January 2011 deadline, three 5,500m³ tanks have been equipped with new floating roofs and specialised blending equipment, controlled by a SCADA system. Safety Instrumented Systems incorporating high integrity independent shut down systems, and ROSOVs (remotely operated shut off valves) are also being installed to enhance process safety provision. A butane injection system is to follow.
Chris Brookhouse, Development Director of Harvest Energy, commented "I have been impressed by the dedication and commitment of the Simon team. Working closely with the Simon Projects in house engineering group has ensured that the blending systems meet our requirements and that storage and distribution facilities are available to our timetable. We look forward to an exciting year serving the North East".