Simon makes tank acquistion at Immingham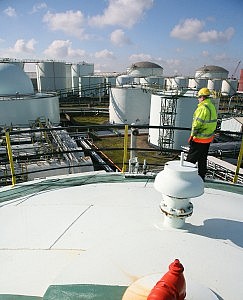 Simon Storage Ltd ("Simon") has increased its owned storage capacity in the UK with the purchase of two tanks from the Pan American Sulphur Company ("PASCo"). The tanks, which are located on land adjacent to Simon's Immingham East Terminal ("the Terminal") on Humberside, were previously leased to Simon to supplement the Terminal's capacity. The steel tanks are currently being or have been used by Simon to store sulphuric acid and heavy fuel oil on behalf of two existing customers.
Designed and constructed to a high specification, the tanks provide Simon with additional owned capacity which can now be modified, as required, to meet the storage demands of a range of other products.
Simon has proven engineering expertise in tailoring liquid storage solutions for a wide range of customers, industries and products.The two tanks acquired by Simon from PASCo have capacities over 11,750m³ and 11,350m³. Initially specified for storing molten sulphur, the tanks have been built to a strengthened design and are rated to a specific gravity of 1.8. Simon has since converted one of the tanks to fuel oil storage, which included upgrading the existing insulation, for a leading bulk fuel supplier.
Fuel oil is received by sea at Immingham's East Jetty for storage prior to onward distribution to local refineries. The other tank has stored imported sulphuric acid, also received by sea. This tank was extensively modified, including the installation of a new floor to accommodate the storage of acid. Existing lagging was removed and the shell exterior was reinstated to a painted finish. The sulphuric acid tank has access to a dedicated sulphuric acid road export gantry and each of the two tanks is connected to pipeline links for transporting products from storage at the terminals to local refineries.
Simon's East and West Terminals at Immingham are the UK's most comprehensive independent storage facility with a combined capacity of 623,000m³ in 243 tanks. Bulk liquid and gas products can be stored and distributed by ship, barge, rail tanker, pipeline or road vehicle, providing the flexibility to develop an optimal combination of viable transport modes. The Terminals are ideally placed for receiving product shipments from Continental and Eastern Europe, and have a major logistical advantage over the UK's West Coast facilities in terms of shorter and more direct routes to Europe's ARA Ports (Antwerp, Rotterdam and Amsterdam) and to Hamburg, as well as easier access to the developing transit terminals of Eastern Europe.