Simon supports record-beating race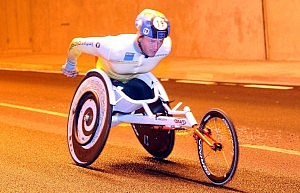 Simon Storage Ltd ("Simon") and its Canadian parent company, Inter Pipeline Fund were delighted to be among the sponsors of the thrilling 2011 Tyne Tunnel 2K International ("TT2K"), the fastest wheelchair race on the planet www.tunnel2k.com. Simon supported the race winner, Josh Cassidy, for the second year running. The Canadian Paralympian sped to victory in the first TT2K to take place in the new Tyne Tunnel, commissioned in February 2011 as part of the new Tyne Crossing Project.
The new vehicle tunnel under the River Tyne was closed during the night of Friday 16th September 2011 while thirty of the world's elite wheelchair athletes, both men and women, were tested to their limit over the 2km course. Josh Cassidy's time of 3:33.3 minutes was the fastest ever recorded at the TT2K and 20 seconds ahead of Richard Coleman, the Australian Paralympic Gold Medallist. "I think I broke 50mph on the downhill, for sure," said an elated Josh after completing the course, "and it's pretty special to win the first race in the new Tyne Tunnel."
Now in its eleventh year, the TT2K attracts world-class athletes to South Tyneside and this year's record beating race is seen as a superb showcase for wheelchair racing ahead of the London 2012 Paralympic Games. As a leading provider of specialist storage facilities in the North East of England, Simon is proud to sponsor such an exciting and inspiring event in the region. Supporting Josh Cassidy at the 2011 TT2K on behalf of Simon Storage were Gary Lacy, Engineering Director, and his wife, Linda. Gary is based at Simon's Tyne Terminal located within the Port of Tyne. "Once again the event was very well organised," said Gary, "and it was good to see Josh dominate this demanding race despite a shoulder injury, and then go on to win the Great North event in a record time on the Sunday."
At 26, Josh Cassidy is ranked number one in the world by the International Paralympic Committee for the 1500m race. His next big road race is the New York Marathon in November but the London 2012 Paralympic Games will be the real test of Cassidy's super pushing powers when he takes on the world's best in the 1,500m, 5,000m and Marathon.