Clean sweep for Simon in ROSPA safety awards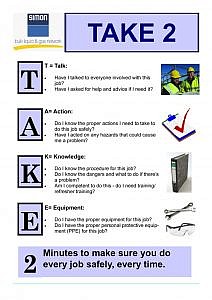 For another year running Simon Storage Ltd ("Simon") has won an impressive array of honours in the Royal Society for the Prevention of Accidents (RoSPA) Annual Safety Awards. All five terminals operated by Simon in the UK have once again been recognised by RoSPA for their exemplary personal and process safety performance. Simon's Seal Sands, Immingham East and West Terminals each won an Order of Distinction, presented after no less than 15 consecutive Gold Awards, while both Simon Riverside and Tyne Terminals received President's Awards after having won at least 10 consecutive Gold Awards.
This latest raft of RoSPA Awards reflects the continuing success of Simon's internal safety initiatives, such as its TAKE 2 mini-risk assessment programme and annual Process Safety Improvement Plan. Simon is also a proud participant in the Chemical Business Association's Responsible Care programme, and keeps abreast of the latest industry-wide safety developments through on-going active engagement with industry associations and regulatory bodies. The company's recent Annual Safety Conference was attended by senior managers, safety professionals and safety representatives from Simon's sites across the UK, Ireland and Germany. As ever, the conference provided an ideal opportunity to review safety performance as well as to discuss ideas and actions for further improvements over the coming year. Topics covered at the conference included contractor safety, tank top surveys, and competence and training for staff at all levels.
Latest TAKE 2 Safety Campaigns
Launched by the company in August 2008, Simon's TAKE 2 safety drive, with the slogan "Take 2 minutes to make sure you do every job safely, every time", continues to effect improvements in safety performance across the company's bulk liquid and gas network. New TAKE 2 promotions, focusing on different safety topics, are introduced on a regular basis and supported by posters, presentations and videos. Campaigns launched so far in 2012 include "TAKE 2 before Work at Height" and "TAKE 2 with Contractors". The latter highlights the potentially hazardous work that contractors undertake for Simon and the role everyone in the company has to play in making sure that contractor work is completed safely.
Tank top surveys
In the first half of 2012 Simon's SHE (Safety Health and Environment) Team, working with operational and safety staff at each site, carried out roof-top surveys at the company's terminals in the UK, Ireland and Germany. Simon's Group SHE Officer, Alan Dixon, says taking a birds-eye view proved invaluable to the operations teams in raising awareness of the need to maintain excellent housekeeping on tank tops.
Competence and Training
The success of Simon's safety initiatives depends on the competence and commitment of its people. Currently, Simon is taking major steps to further enhance the competence of its staff at all levels. This includes a successful rolling programme of process safety awareness training for all operational personnel, as well as an on-going, modular safety training programme for all company directors. Simon is also working towards the delivery of high-quality, externally-accredited process safety leadership and management training to its directors, managers and supervisors.
Summing up, Richard Sammons, Chief Executive of Simon Storage, says the company is delighted with its year-on-year success in RoSPA's Safety Awards, which acknowledge the commitment of staff at all levels to maintain the highest health and safety standards. He comments: "For Simon, investing in personal and process safety will always be at the heart of the business, not only to meet and exceed regulatory compliance but to ensure a safe working environment for employees, contractors and visitors, and the effective operational delivery of service to our customers."