Simon supports paralympian's success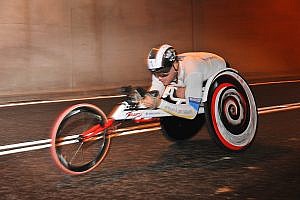 Simon Storage Ltd ("Simon") and its Canadian parent company, Inter Pipeline Fund, were among the proud sponsors of Paralympian Josh Cassidy as he stormed to victory in the Tyne Tunnel 2K International (TT2K) on 14th September 2012 www.tunnel2k.com. Josh won first place in what's been dubbed 'the fastest wheelchair race on the planet' for the fourth time. Clocking an incredible 45mph on the downhill stretch of the race, he finished the 2.3km course in just 4.40.2 minutes.
Now in its 12th year, the TT2K is held at night along a closed section of the road tunnel under the river Tyne. The event attracts elite wheelchair athletes from around the globe, like Canadian Josh Cassidy who is a world record marathon holder. Elated after achieving his fourth TT2K victory, Josh said: "I love the adrenaline-charged super speeds on the Tunnel downhill and the challenge of the gruelling uphill. I've been here six times now and there is no race quite like it anywhere in the world. "
Cheering Josh Cassidy on at the 2012 TT2K on behalf of Simon Storage were Gary Lacy, Engineering Director, and his wife, Linda. Gary is based at Simon's Tyne Terminal located within the Port of Tyne. He commented: "As a leading provider of specialist bulk liquid storage facilities in the North East of England, Simon is delighted to support such an exciting and inspiring event in the region. The TT2K always draws a good crowd. This year's race, also attended by special guest Baroness Tanni Grey-Thompson, generated even more interest after the incredibly successful Paralympics in London this summer."
Just two days after winning the 2012 TT2K Josh Cassidy successfully defended his title in the wheelchair category of the 2012 Great North Run. For more information about Josh and his inspiring story go to www.joshcassidy.com.