ROSPA Awards reflect Simon's safety record in storage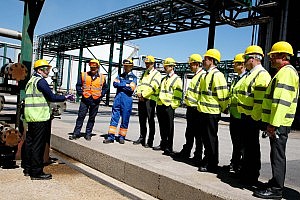 Another year of exemplary personal and process safety performance by Simon Storage has been recognised in the Royal Society for the Prevention of Accidents (RoSPA) Annual Safety Awards. Simon's Seal Sands, Immingham East and West Terminals each won an Order of Distinction, presented after no less than 15 consecutive Gold Awards, while both Simon Riverside and Tyne Terminals received President's Awards after having won at least 10 consecutive Gold Awards.
Now in its 57th year the RoSPA Safety Awards offer organisations like Simon Storage a prime opportunity to prove their ongoing commitment to raising health and safety standards. With almost 2,000 entries for this year, the Awards are one of the most sought after accolades in the industry. Richard Sammons, Chief Executive of Simon Storage Limited, says: "Simon's year-on-year success in these prestigious Awards reflects the company's continuing investment in personal and process safety and competence training for staff at all levels and our internal safety initiatives, such as the TAKE 2 mini-risk assessment programme. Simon's active engagement with industry associations and regulatory bodies also ensures that we keep abreast of the latest industry-wide safety developments."
Competence and Training 
Over the past year Simon has stepped up its rolling programme of process safety-related training with externally-accredited courses for its employees through the National Skills Academy for Process Industries (NSAPI). To date these have included training to NSAPI standard in Process Safety Leadership for Senior Executives, which was attended by Simon's senior management team and a Process Safety Management Foundation course, which was attended by eleven of Simon's employees, ranging from terminal managers, superintendents and project engineers to safety staff from terminals in the UK and Ireland.  A further 13 employees from the operational management, safety, engineering and commercial teams are scheduled to attend the course in October 2013. There are also plans for operational personnel to complete the new NSAPI accredited course covering Process Safety Management for Operators.
Additionally, as a result of its continuing investment in process safety training and professional development, Simon has been awarded a Certificate of Approval from Cogent, the Sector Skills Council (SSC) for the Chemicals, Pharmaceuticals, Nuclear, Life Sciences, Petroleum and Polymer Industries.
New TAKE 2 Safety Campaigns 
Simon's TAKE 2 campaign, which asks employees to 'TAKE 2 minutes to make sure you do every job safely every time', continues to be an effective means of communicating important safety messages via posters, presentations and videos. The campaign has covered a range of safety topics since it was introduced five years ago, including potential hazards when working at height and the role everyone in the company has to play in making sure that contractor work is completed safely. The most recent campaign was 'TAKE 2 …. in the office' which highlighted, for example, the importance of reporting faulty office equipment, removing slip and trip hazards, keeping fire escape routes clear, and carrying out regular display screen equipment (DSE) assessments in accordance with HSE advice on working with VDUs. Simon's safety team is currently planning the next campaign which will be 'TAKE 2 with tanker drivers.'