Inter Terminals rebranding and management changes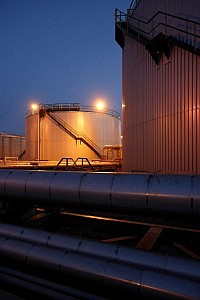 From January 1st, 2015 Simon Storage will be rebranded as Inter Terminals. This brings together the Simon Storage operations in the United Kingdom, Germany and Ireland under the same trading banner as Inter Terminals, Denmark. The Simon Storage and Inter Terminals businesses are both wholly-owned subsidiaries of Inter Pipeline Ltd, a major petroleum transportation, storage and natural gas liquids extraction business based in Calgary, Alberta, Canada. Inter Pipeline Ltd is one of the largest energy infrastructure businesses in Canada, and ranks among the top 50 companies listed on the Toronto Stock Exchange.
The combined Inter Terminals business represents one of the largest independent bulk liquid storage businesses in Europe, with more than 3 million cubic metres of storage capacity located across 12 terminals. The terminals in the United Kingdom, Germany and Ireland provide storage and distribution facilities for a wide range of hazardous and non hazardous liquids, including oils, chemicals, biofuels and waste oils. Terminals are strategically located at the coastal ports of Immingham, Teesside and Tyneside in the United Kingdom, on the Shannon estuary, Ireland and on the Rhine river at Mannheim, Germany. In Denmark, Inter Terminals operates deep draft coastal terminals which provide build bulk, break bulk and custom blending services for distillates and heated oil products.
Inter Terminals will be led by Martyn Lyons, who will be promoted to Chief Executive. With over 25 years experience in the tank storage sector, Martyn is well known within the industry and continues to serve as Chairman of the UK Tank Storage Association. He succeeds Richard Sammons who is moving into a new role as Executive Chairman. In Denmark, Uffe Kirk has been promoted to Managing Director, succeeding Aage Faurholt who in turn becomes Chairman of Inter Terminals, Denmark.
Richard Sammons notes: "I am delighted to see the integration of our operations under one unified management structure and I wish Martyn and his team every success in their new roles. Adopting the Inter Terminals name across our European terminal network will strengthen brand recognition and the marketing of our integrated suite of storage services. It also creates a stronger branding affiliation with Inter Pipeline Ltd., our Canadian parent, which continues to provide strong support for our operational and growth initiatives across Europe. We look forward to serving both existing and new customers in the future".