Simon invests in jetty upgrade at seal sands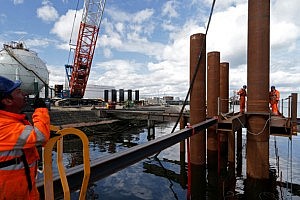 Simon Storage has invested around £2 million in upgrading the Jetty 1 facilities at its Seal Sands Terminal at the mouth of the River Tees. Works to repair the existing structures, replace existing fender systems with high-efficiency units and construct a fourth dolphin (dolphin D) have recently been completed in a demanding marine environment with an exemplary safety performance and with a minimum of jetty outage. The project, managed by Simon's in-house engineering team, will extend the life of the jetty and ensure safe berthing for vessels up to 40,000 DWT. The installation of the fourth dolphin provides a preferential berthing dolphin to act as the first point of contact for vessels being berthed on Jetty 1.
Simon is committed to a continuous programme of asset integrity management at its Terminals in the UK, Germany and Ireland to ensure facilities meet the needs of current and future operational capacity. The project management team worked closely with the Marine Management Organisation, PD Ports and the Crown Estate Commissioners to obtain the necessary licences to ensure that the works were completed on time and with the minimum impact to the marine environment. A design and build contract incorporating the requirements of the works licences was awarded to Southbay Civil Engineering Ltd of North Shields (SCE), which specialises in marine design and build projects.
The design and construction method developed by Simon and SCE utilised landside access and pre-constructed concrete panels for dolphin D to optimise construction safety and reduce jetty possession risk, and required installing 900mm diameter tubular piling into the river bed, followed by the precast concrete units and a continuous concrete pour to create the platform, and finally fitting the new fender panel as a single pre-assembled unit. Spud-leg barges were used to replace the existing fenders on dolphins A, B and C with a similar high efficiency system, and the timber facing panels to the Jetty 1 structure have also been replaced.
Summing up, Gary Lacy, Simon's Engineering Director, says the close cooperation between the Simon engineering, operations and SCE teams, and their collective emphasis on construction safety, ensured a safe and successful delivery of a major engineering project, from initial design through to commissioning and handover to operations. He concludes: "The 24-hour / 7-day working pattern enabled the new build and renewal works to be completed in under 20 days, resulting in a minimum reduction to the availability of the jetty for our customers."