Simon provides specialist storage and water separation services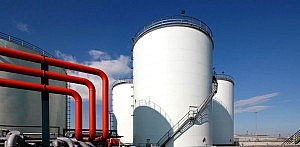 Simon Storage has successfully provided specialist storage and water separation services for ship slops at its Immingham East Terminal on behalf of Hydrodec (UK) Ltd. The contract with Hydrodec, which trades as the OSS Group in the UK, involved around 11,000 tonnes of saline water containing oil residues from shipping operations. Having already undergone an initial oil skimming process, the product was re-sampled by Simon on arrival at the terminal to ensure it satisfied the adequate specification for water separation and disposal via Simon's on-site water treatment facilities.
Received by sea into the terminal, the ship slops was stored in a number of specially configured tanks totalling nearly 20,000m3. After a settling period to allow for natural in-tank separation of oil and water, the water was drawn off for disposal through Simon's water treatment facilities. Oil residues left in the tank were collected by OSS, using vacuum tankers, for recycling at its Stourport-on-Severn processing plant.
Simon's Immingham East Terminal is permitted to carry out water separation activities and recovery of separated hazardous and non-hazardous waste products from industry and commerce. Simon's investment in its own water treatment plant at the terminal provides the capability for disposal of separated waste water derived from a wide range of permitted EWC (European Waste Catalogue) codes.
In the face of finite global oil supplies, the market for collecting and recycling waste oil from sources such as the maritime and automotive industries is growing, says Rachel Lewin, Marketing Executive at Simon Storage. "This rapidly developing market is increasing requirements for suitable storage, treatment and disposal in the UK and mainland Europe," she comments. "With a long history of handling bulk liquid wastes under permit and its own water separation facilities at Immingham, Simon has achieved significant business success in this demanding sector and is ideally placed to maximise emerging opportunities."