Simon Storage builds new hydrochloric acid import facility for Brenntag UK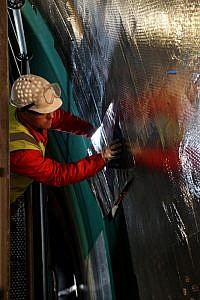 Simon Storage has completed building a brand new import, storage and distribution hub for hydrochloric acid (HCL) at its Seal Sands Terminal for Brenntag UK, part of the Brenntag Group, a global market leader in chemical distribution. The facility is one of the largest sea-fed facilities of its type in the UK with a capacity of over 2,000 tonnes. The new contract with Simon will expand Brenntag's HCL storage capabilities in the North East of England and enable product to be imported by ship from outside the UK. HCL blends will be redelivered to Brenntag's UK customers by road tank wagons via a dedicated top loading gantry. This arrangement will ensure improved supply security of HCL to Brenntag's customers for use in a number of industry sectors, from steel processing to food and pharmaceutical production.
Simon has constructed specialist HCL storage and handling facilities at the Seal Sands Terminal for a long-term contract with Brenntag. The facilities incorporate innovative protection technology to create corrosion-resistant storage with an in-built lining failure detection system. HCL will be received into storage via a new import line, again specially engineered to resist corrosion. Product will be stored in a 2,140m3 capacity mild steel tank, double lined with a high performance epoxy coating designed to provide excellent chemical resistance. The lining system incorporates a vacuum detection system between the two linings. The void between the linings is monitored continuously for any loss of vacuum which would indicate a lining failure. If this occurs, an audible and visual alarm alerts the operator to a problem whilst keeping the tank's contents contained.
Simon's engineering team has also installed customised scrubber systems to the storage tank and road loading systems to accommodate the fuming of HCL. In addition, from an on-site plant, Simon is providing an integrated dilution system of demineralised water during road loading to enable Brenntag to offer a full range of product grades.
Brian Lister, General Manager of Brenntag UK's Inorganics Division, comments: "Having a purpose-built import facility at Simon's Seal Sands Terminal will improve our ability to supply HCL from alternative sources to the current UK production locations. It also fits with Brenntag UK's strategy to expand our regional tank capacity, particularly at key hubs, to offer a wider route to market for both our European and Global supplier base."