Inter Terminals is expanding chemical storage capacity on the Rhine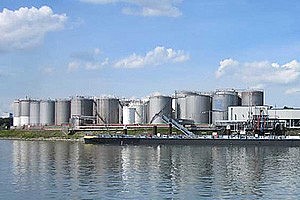 Inter Terminals is constructing six new 1500m³ stainless steel tanks at its bulk liquid storage facilities near Mannheim, Germany. The company's 6 million Euro investment in additional capacity is in direct response to strong demand for specialty chemical storage services from south-west Germany's prospering chemical production industry. The expansion will add 9000m³ of storage to existing mild and stainless steel tankage at the two-terminal complex on the River Rhine, Western Europe's principal inland waterway. Once commissioned by the end of 2015, the Mannheim Terminals' total storage capacity will be 312,000m³ in 140 tanks.
Conveniently close to Europe's leading chemical production plants, the Mannheim terminals are ideally placed to meet a growth in demand for chemical storage on the Rhine, particularly for high grade products requiring stainless steel tanks. This demand reflects world scale production in the region and increased product shipments of commodities, raw materials, various polymer intermediates and finished product. Higher quality standards, requiring segregated storage for individual quality grades, are also influencing regional requirements for chemical storage.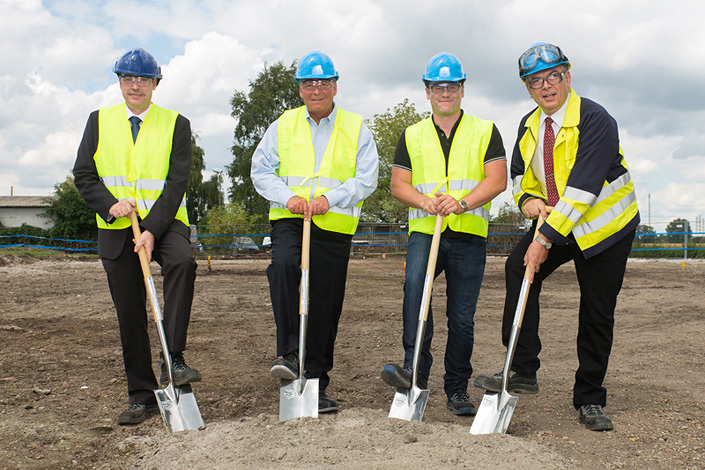 From left to right: Frank Schulze, Managing Director, Inter Terminals Mannheim GmbH; David Fesyk, Director and Executive Vice Chairman, Inter Pipeline Limited; Chris Bayle, President & Chief Executive Officer, Inter Pipeline Limited; Helmut Gőlz, Managing Director, Inter Terminals Mannheim GmbH
Commenting on Inter Terminals' latest investment, Frank Schulze, Managing Director of Inter Terminals Mannheim GmbH, says: "Generally speaking, the chemical industry invests preferentially in production rather than storage. Whilst some chemical plants do have their own storage facilities, there is still a requirement for excess capacity to be outsourced, or for buffering while production facilities undergo maintenance and repair."
Operating in partnership, the Mannheim North and South Terminals provide a strategic storage hub for the heart of Europe. The facilities have a long and successful track record of supplying bespoke storage, handling, blending and distribution services for a broad suite of products including gasoline, diesel, heating oils and alternative fuels, as well as petrochemicals and chemical products.
Mannheim Terminals' prime location offers convenient transport links to industrial centres in Germany, France, Switzerland, Austria and Italy, together with access to the major deep water coastal ports of Rotterdam, Amsterdam and Antwerp via the River Rhine. Configured to maximise logistical flexibility for customers, the facilities are able to ship and receive, blend and tranship products via barge, rail and truck.