Ringing the commercial changes at Inter Terminals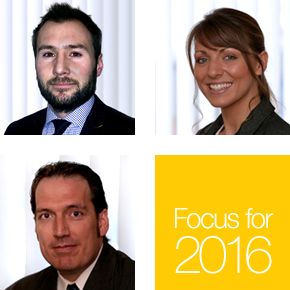 Inter Terminals is ringing in the New Year with a fresh focus for its commercial management team in the UK and Ireland. The restructuring of roles by product rather than geographic location reflects the company's core business activities across its European storage network. The new look team welcomes Elliot Dell as Commercial Manager – Oils, while Chris Tanner's role is redefined as Commercial Manager – Chemicals. Completing the new line-up is Rachel Mundy as Sales and Marketing Manager.
Elliot Dell joins Inter Terminals from a large tank storage provider where he gained extensive experience in fuels storage from both a commercial and operations perspective. He also brings an understanding of the global oils market to his new role, having worked as a business analyst in Rotterdam. In addition to his wealth of industry knowledge, Elliot holds a Master's degree in Chemistry.
Having been with the company for more than 16 years, Chris Tanner is a longstanding and highly valued member of Inter Terminals' commercial management team. He has a Master's degree in Materials Design and Engineering and has accumulated considerable expertise in bulk storage and handling during his career with the company to date.
Since joining the commercial team in 2009 Rachel Mundy's career has gone from strength to strength. In her new expanded role she will further develop Inter Terminals' waste-related activities, including the storage and handling of wastes arising from North Sea oil and gas production facilities. In addition, she will continue to provide invaluable marketing support to the commercial team, whilst continuing to work towards her Business Studies degree.
Inter Terminals' Commercial Director, Paul Oseland, comments: "We are delighted to announce the restructuring of our UK commercial team to reflect the skills and experience of individual team members. The changes also demonstrate our commitment to understanding the needs of our customers and the markets in which they operate and will promote greater synergy between our commercial teams across Inter Terminals' European storage network."
Inter Terminals' Commercial Team
UK/Ireland
Chris Tanner, Commercial Manager – Chemicals
Elliot Dell, Commercial Manager – Oils
Rachel Mundy, Sales and Marketing Manager
Gillian Baker, Business Development Manager UK
Sweden
Cecilia Lönnroth, Commercial Manager
Per Fredriksson, Sales Manager
Per Follin, Manager – Projects and Business Development
Denmark
Uffe Kirk, Managing Director
Germany
Frank Schulze, Managing Director