Inter Terminals invests in IMO 2020 infrastructure
30 June 2020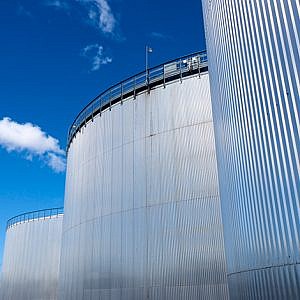 IMO 2020: state-of-the-art low-sulphur marine fuel bunkering at Gothenburg Terminal
In a proactive response to IMO 2020, Inter Terminals can now offer state-of-the-art low-sulphur marine fuel bunkering at its storage terminal in the port of Gothenburg, Sweden. Since coming into force on 1 January 2020, new IMO regulations aimed at reducing air pollution from shipping have required vessels to use marine fuels with a sulphur content of no more than 0.5% (against the previous limit of 3.5%). Occupying a strategic location on an active transit channel for large fuel oil flows, and now with dedicated IMO 2020 compliant bunkering, the Gothenburg Terminal is particularly well placed to meet demand for low-sulphur fuel from new and existing customers.
Investing in low-sulphur fuel bunkering at Gothenburg reflects Inter Terminals' commitment to adapting and developing its pan-European facilities to meet changing regulations and market requirements. The project concept and design was managed by Inter Terminals' in-house project engineering teams in association with construction partners. Works included converting 50,000m3 of existing tankage for dedicated bunker fuel storage, linked directly by three pipelines to the terminal's new bunkering facility at the port's coastal jetties.
Bunkering operations at Gothenburg are fully automated for optimum efficiency, accuracy and safety. The automation system allows identified ships to enter key selection data, such as fuel type or grade and volume required, prior to automatic loading. As part of a bespoke bunkering service, fuel additives can also be injected into the pipeline on request to meet specific cargo requirements.
In addition to safe and efficient storage and handling of products ranging from fuel oil and diesel to vacuum gas oil, jet fuel and gasoline, Inter Terminals' Gothenburg Terminal has one of the most advanced fuel blending facilities in Europe. With access to streams from interconnected local refineries, the terminal's sophisticated blending hub can provide a flexible offering to customers. This includes the potential for customised low-sulphur fuel solutions to comply with IMO 2020 regulations and individual cargo specifications.
Summing up, Mathias Jonasson, Managing Director and Country Manager, Inter Terminals Sweden, says this latest investment at Gothenburg demonstrates the company's forward-thinking approach to an ever-changing market. He comments: "Continuous investment in skills and infrastructure at our terminals is key to achieving growth in our business and for our customers. With this new fully automated bunkering facility, Inter Terminals is able to deliver an IMO 2020 compliant service to shipping from Scandinavia's largest and busiest port occupying a prime geographical location on Sweden's west coast, together with the added value benefits of specialist fuel blending expertise."